Pourquoi s'équiper d'une solution de marketing automation en BtoB ?
Le marketing automation est bien connu des acteurs du BtoC. Les entreprises comme Amazon dans l'e-commerce ont bien compris l'opportunité de faire du marketing ciblé de manière automatique.
Pourtant, les entreprises BtoB font également face à de nouveaux challenges. Cycle de vente longs, démarchage commercial de plus en plus désintermédié par le numérique, difficulté à suivre l'ensemble du parcours client, etc…
Par conséquent les marketeurs BtoB s'approprient peu à peu ces techniques et les implantent dans leur stratégie relationnelle. L'adoption massive des solutions de marketing automation chez les américains en BtoB révèle une tendance durable pour la relation client.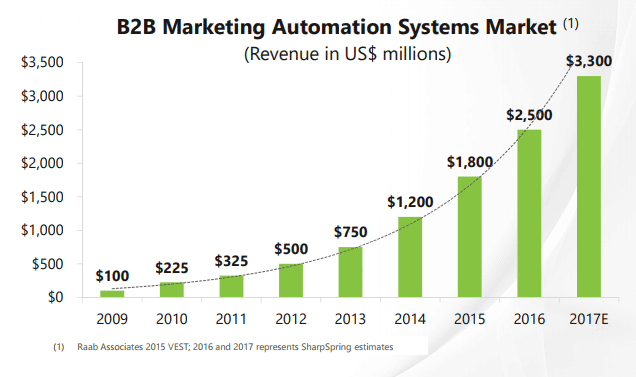 source : Emailmonday
Découvrez pourquoi le marketing automation peut être une solution indispensable pour résoudre vos problématiques BtoB.
1# Quels sont les avantages d'un logiciel de marketing automation ?
Réduire le temps de votre cycle de vente
Un des plus grands challenges des entreprises BtoB est de faire face à des cycles de vente longs. Garder la relation et suivre son prospect sur une à plusieurs années peut se révéler extrêmement complexe et chronophage sans organisation et solution technologique.
Le marketing automation vient soutenir votre force commerciale tout au long du processus d'avant-vente :
"Chasse commerciale" : l'inbound marketing et la stratégie d'email nurturing permet de faire venir à soi des leads qualifiés.
Détection d'affaire : grâce au mapping de tous les contacts et au lead scoring, le marketing automation permet de mieux identifier les opportunités d'affaire.
Filtrer les entrants : plutôt que de traiter chaque lead avec le même investissement, la solution de marketing automation indique au chargé de vente les clients les plus stratégiques sur lesquels se concentrer.
L'incidence sur le taux de conversion en BtoB grâce au marketing automation est très élevée : près de 60%. Elle profite davantage aux grandes entreprises : 80% des plus grandes entreprises B2B utilisent aujourd'hui l'automatisation marketing.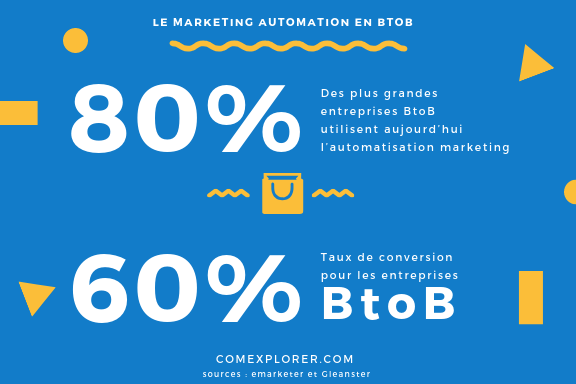 Sources : Lead the way  et Emarketer 
Plus de création de valeur : des leads qualifiés et des prospects réengagés
Le marketing automation permet de manager efficacement les relations avec l'ensemble de ses clients. C'est cette capacité à redonner de la proximité avec chaque client de manière automatisée qui en fait son succès. L'entreprise peut s'adresser en 1-to-1 et personnaliser son message au besoin précis du client.
Par exemple, grâce au lead nurturing, les marketeurs BtoB sont capables d'augmenter les opportunités de ventes de plus de 30% (DemandGen, 2014 Lead Nurturing Benchmark Study, Octobre 2014). Sans intervention humaine après sa mise en place (si ce n'est pour piloter et optimiser le scénario), le marketing automation augmente considérablement la productivité de vos équipes commerciales.
Découvrez comment améliorer votre performance commerciale en BtoB dans cet article.
Gagner du temps sur le pilotage et les reportings
Difficile de faire cohabiter votre CRM, votre Analytic et votre solution de campagne emailing ? Pourquoi le marketing automation est sans aucun doute la solution ? Tout simplement car il permet de centraliser l'ensemble des données et de les exploiter efficacement au service du business. Pour des entreprises internationales, cette vision unifiée de leur client grand compte contribue à une meilleure satisfaction et plus d'opportunités commerciales.
« En 2012, je dirigeais un plateau de 30 personnes qui géraient entre 50 et 80 000 contrats par an, pour environ 150 millions d'euros de CA. Le reporting et le suivi d'équipes me prenaient 2 à 3 jours par mois. Aujourd'hui, c'est instantané », évoque Vincent Gérard du Groupe Accor Hotels pour Salesforce.
Produire et diffuser efficacement votre contenu
L'étude annuelle sur le content marketing de Content Marketing Institute soulève que 60% des marketeurs en B2B affirment : « Mon plus gros challenge est de produire du contenu de qualité régulièrement. »
Le marketing automation apporte une solution industrielle dans l'amélioration du processus de publication multi-réseaux et la curation de contenu (blog, réseaux sociaux, newsletter).
Englobé dans une bonne stratégie d'Inbound marketing, vous pourriez ne plus avoir à vous déplacer demain pour prospecter.
Mieux cibler et personnaliser sa relation client
Près de 70% des personnes interrogées estiment que l'amélioration du ciblage des messages est le principal avantage de l'automatisation du marketing.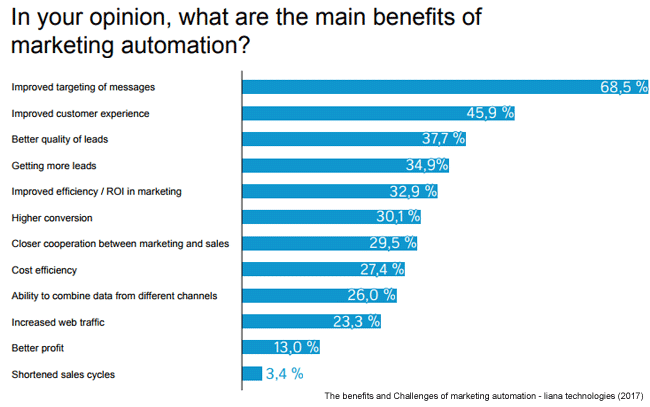 Source : Emailmonday – Liana Technologies "The Benefits and Challenges of Marketing Automation" (2017)
2# Quels sont les meilleurs logiciels de marketing automation ?
A présent, vous connaissez les principaux avantages d'une solution de marketing automation. Par conséquent, vous êtes en mesure de choisir celle qui sera la plus adaptée à vos enjeux et priorités business. Un panorama complet des logiciels de marketing automation 2019 est disponible sur notre blog.
Marketo, pour augmenter ses revenus
En écoutant mieux leurs clients et en dialoguant avec eux de différentes manières, GE Healthcare a réussi à générer plus de 2 millards de dollars d'opportunités.
Source : Marketo
Pardot ou Eloqua, pour gérer une base de contact massive
Dans l'environnement bancaire par exemple, le volume de contact est massif (plusieurs milliers de clients et transactions) et requiert une solution capable d'exploiter efficacement cette mégabase de données.
Difficile d'imaginer que le groupe Accor Hotels a commencé à réfléchir à la mise en place d'une CRM pour ses activités BtoB en 2011. Le marketing automation est arrivé dans un second temps dans la continué de l'industrialisation de leur relation client.
Plezi ou Hubspot, pour adopter une stratégie de contenu originale
"En BtoB, peut-être avons-nous parfois peur de l'originalité. Je crois pourtant qu'il y a sur le sujet des opportunités pour sortir du lot. Le BtoB reste trop traditionnel, probablement." C'est le constat de Solen Carreau, Responsable Marketing & Communication Panasonic Business dans "Marketing Stories" pour CMIT (club des marketeurs in Tech).
Pour créer une stratégie de contenu originale et industrialiser sa diffusion, le marketing automation est un excellent levier. Egalement, le recyclage et la déclinaison de contenu est bien plus efficace dans les entreprises qui utilisent des solutions comme Plezi ou Hubspot, pionniers de l'inbound marketing.
S'équiper d'une solution de marketing automation en BtoB semble être la clef pour améliorer à la fois votre relation client et votre stratégique commerciale. Lancez-vous !
Source :ComExplorer